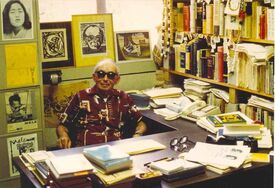 Ştefan Baciu
(b. 29 October 1918 in Braşov - d. 6 January 1993 in Honolulu) was a Romanian poet, essayist, journalist, translator, art critic, diplomat, and university professor who spent most of his life in exile, first in Latin America, then in the U.S.
Born into an academic family, Baciu graduated in 1937 from Andrei Şaguna high school in Braşov, where his professors included Emil Cioran for philosophy, Octav Şuluţiu for French, and his own father, Ioan Baciu, for German. After earning national recognition as a young poet, he went on to study at the University of Bucharest, where he completed a law degree in 1941, while serving as editor on several literary publications.
In 1945 he married Mira Simian (b. 16 May 1920, d. 2 July 1978), and they both moved to Bern, Switzerland in 1946, where Baciu served as press attaché to the Romanian embassy. In 1949 they fled to Rio de Janeiro, where he traveled widely as a journalist and became a recognized authority on Latin American literature, especially surrealism. In 1962 he was invited to become a professor of literature at the University of Seattle, then two years later settled in Honolulu in the same capacity at the University of Hawaii, where Mira became a professor of French. The Bacius were good friends of Jean Charlot, who collected their works, many of which are included in the university library's Jean Charlot Collection.