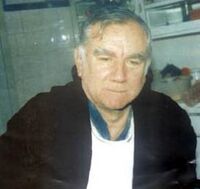 Dumitru Radu Popescu
(Romanian pronunciation:
[duˈmitru ˈradu poˈpesku]
; born August 19, 1935) is a Romanian novelist, poet, dramatist, essayist, short story writer, and formerly communist politician. A former member of the Central Committee of the Romanian Communist Party (1979-1980), he is a corresponding member of the Romanian Academy and was, between 1980 and 1990, Chairman of the
Romanian Writers' Union
. His 1973 novel Vînatoarea Regală ("
The Royal Hunt
") was translated into English in 1988.