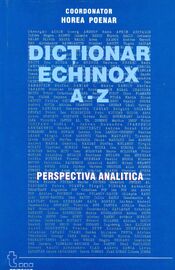 Echinoxism
is a generic term associated (usually) with the writers around the magazine
Echinox
.
[1]
Thanks to the writers of the 1971 wave (Dinu Flămând, Ion Mircea, Adrian Popescu) and their similarities, it has also become a stylistic term for a certain type of neomodernism that was sometimes described as "mannerist" (or neo-expressionist). However, as Ion Pop, active promoter of the group, points out, writers from more recent generations (such as Ștefan Manasia and Andrei Doboș) tend to eskew altogether the late modernist stylings.[2]
Associated writers and critics
Edit
     See also Romanian-Hungarian and Romanian-German writers as well as the 1960's, 1970's, 1980's, 1990's and 2000's generations.
Prose writers
Edit
Playwrights
Edit
Critics and essayists
Edit

References