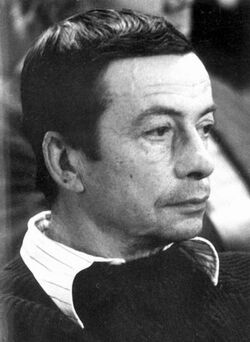 Geo Dumitrescu
(b. 17 May 1920, Bucharest, d. 28 September 2004) was a Romanian poet and translator associated with the
Albatros
group. His first book, the elusive volume Aritmetică (Arithmetics), was published in 1941. Written during the WWII and initially bearing the title Pelagră before being pulled out by censorship, his most acclaimed book,
Libertatea de a trage cu pușca
(The Liberty of Shooting), was eventually published in 1946, but was one of the numerous banned books on the list
Publicaţii interzise până la 1 mai 1948
(List of Banned Publications Out Prior to 1 May 1948). Geo Dumitrescu could not publish any book until 1963, when
socialist realism
was no longer strictly imposed. Republished,
Libertatea de a trage cu pușca
was eventually hailed as one of the precursors of
postmodernism
,
experimentalism
and the ironic poetry of the
1980's generation
. Most of his later volumes are reissues and anthologies. He was also the director of
România literară
.