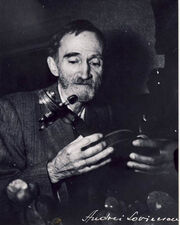 George Bacovia
(Romanian pronunciation:
[ˈd͡ʒe̯ord͡ʒe baˈkovi.a]
; the pen name of
George Vasiliu
; September 17 [O.S. September 4] 1881–May 22, 1957) was a
Romanian symbolist
poet. While he initially belonged to the local Symbolist movement, his poetry came to be seen as a precursor of Romanian
Modernism
and eventually established him in critical esteem alongside
Tudor Arghezi
,
Lucian Blaga
and
Ion Barbu
as one of the most important interwar Romanian poets. Bacovia is one of the few major poets who are held in esteem by readers and still a major influence on contemporary poetry (from
Mircea Ivănescu
,
Dan Laurenţiu
 and
Cezar Ivănescu
to 
Ioan Es. Pop
or
Constantin Acosmei
).