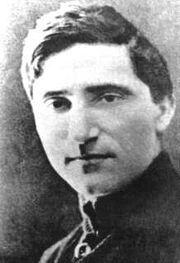 George Topîrceanu
(Romanian pronunciation:
[ˈd͡ʒe̯ord͡ʒe topɨrˈt͡ʃanu]
; March 20, 1886–May 7, 1937) was a Romanian poet, novelist, short story writer and humourist briefly associated with
Sămănătorul
and
Viața Românească
, considered initially a late
romanticist
. He enjoyed much popularity due to the apparent lack of difficulty and humor that made him one of the few poets allowed to be reissued in the 1950's, influencing later poets such as
Marin Sorescu
.
Balade vesele şi triste
("Merry and Sad Ballads") is one of his only three volumes of poetry and the most popular. However, some later critics have acclaimed him for
Parodii originale
("Original Parodies"), one of the few historically important examples of
parody
, in which elements of older and modern styles and trends (including
symbolism
and even
futurism
) and certain famous poems were the subject of parody. In spite of the recent critical attempts (by
Ion Pop
and especially
Marin Mincu
) to emphasize his innovations (in particular, his supposed contribution to a lesser degree of "metaphysics" in high poetry after
Eminescu
and the invasion of his imitators), interest in Topîrceanu has decreased significantly in past decades, even though his texts still circulate, especially as "
children's poetry
". His position in the
literary canon
remains that of a merely noteworthy "minor poet", with some credits for his war-time autobiographical prose pieces that anticipate
Camil Petrescu
and the
trăirist movement
.