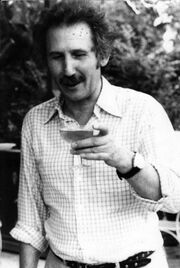 Marin Sorescu
(Romanian pronunciation:
[maˈrin soˈresku]
; February 29, 1936 - December 8, 1996) was a Romanian poet, playwright, novelist, essayist and translator. His works were translated into more than 20 countries, and the total number of his books that were published abroad rises up to 60 books. His most appreciated books include
Singur printre poeţi
("Alone Amongst Poets"), Tinereţea lui Don Quijote ("Don Quixote's Youth"), the play
Iona
("Jonah"), the novel Trei dinţi în faţă ("Three Front Teeth") and the series of
La Lilieci
. He has also been known for his painting, and he opened many art exhibits in Romania and abroad. He occupied the position of Minister of Culture within the Nicolae Văcăroiu Cabinet, without being a member of any political party, after the Romanian revolution of 1989 (from November 25, 1993 - May 5, 1995).