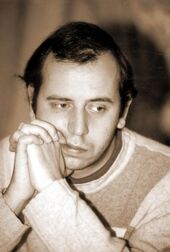 Marius Ianuș
(b.
Marius-Christian Drajan
on 24 December 1975, Brașov) is a Romanian poet, short story writer and journalist. He frequented
Mircea Cărtărescu
's literary circle (which he later renamed into "Abator
Fracturi
") and published several poems in
Ferestre '98
("Windows '98", 1998). Together with
Dumitru Crudu
, he published the manifesto of
fracturism
in the 2000 volume
Manifest anarhist și alte fracturi
(Anarchist Manifesto and Other Fractures);
2000's generation
was already mentioned on the front cover, although only a few years later
Marin Mincu
would establish the new generation.
With this and several other books (
hârtie igienică
,
Mamijuana
,
ursul din containăr
, the anthology
dansează ianuș
,
Ștrumfii afară din fabrică!
), Ianuș made his mark as one of the most important poets of the
2000's generation
, but in 2010 decided to turn to Christianity and deleted all of his previous books (that he rejected as being "pornographic" and "unholy), as well as his old blog and
Hyperliteratura
. He has since published a book of religious poems,
Refuz fularul alb!
(I Refuse the White Scarf!; reference to the white scarf that
George Vasilievici
used to kill himself), and a volume of short stories,
O noapte și o dimineață
(One Night and One Day).