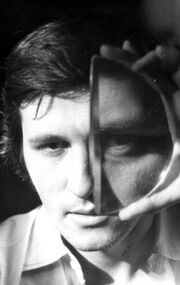 Mircea Nedelciu
(Romanian pronunciation:
[ˈmirt͡ʃe̯a neˈdelt͡ʃju]
; November 12, 1950 – July 12, 1999) was a Romanian short-story writer, novelist, essayist and literary critic, one of the leading exponents of the
1980's generation
.
The author of experimental prose, mixing elements of conventional narratives with autofiction, textuality, intertextuality and, in some cases, fantasy, he placed his work at the meeting point between Postmodernism and a minimalist form of Neorealism. This approach is illustrated by his volumes of stories and his novels Zmeura de cîmpie ("Raspberry of the Field"), Tratament fabulatoriu ("Confambulatory Treatment"), and by Femeia în roşu ("The Woman in Red"), a collaborative fiction piece written together with Adriana Babeţi and Mircea Mihăieş.
A follower of trends in avant-garde literature of the 1960s and '70s, Nedelciu co-founded the literary circle Noii ("The New Ones") with Gheorghe Crăciun, Gheorghe Ene, Ioan Flora, Gheorghe Iova, Ioan Lăcustă, Emil Paraschivoiu, Sorin Preda and Constantin Stan. His integration as an authoritative voice on the Postmodern scene, inaugurated by his presence in the Desant '83 anthology, was complimented by his free-minded attitude and drifter lifestyle. Although Nedelciu's political nonconformism pitted him against the repressive communist system on several occasions, he stood out on the literary scene for adapting to some communist requirements in order to get his message across. This tendency made Nedelciu the target of controversy.
The final years of Mircea Nedelciu's life witnessed his publicized struggle with Hodgkin's lymphoma, which shaped the themes in his unfinished novel, Zodia Scafandrului ("Sign of the Deep-sea Diver"). Although the rhythm of his activity slowed under the pressures of infirmity and major surgery in French clinics, Nedelciu continued his involvement with the literary scene, as both cultural promoter and polemicist, until shortly before his death. His critical posterity is sharply divided on issues surrounding the importance of his work, between those who primarily view him as an eccentric figure and those who describe him as one Romania's major experimental writers.